Piano Renting for Concerts and Musical Events
Pianos de Concierto is a company created in the year 2000, with the aim of offering an integral service of rental of pianos for concerts and musical events.
The Pianos de Concierto company has a long business career and continues to work in the music sector for large entities such as: Comunidad de Madrid, Junta de Andalucía, Fundación Caja Madrid and Teatros del Canal among others, and for top-level musical figures such as: Peter Gabriel, Javier Perianes, Luz Casal and Miguel Poveda. Currently, there are many customers and musicians who endorse the "know how" and the quality of our work.
We offer
Our comprehensive service includes a variety of piano models from the most prestigious manufacturers such as Steinway & Sons or Yamaha for your choice. The transport to the place of the event and the tuning of the pianos is always done by qualified professionals and thus be able to guarantee a high quality service. We offer personalized attention to respond to the specific needs of each client and guarantee excellence as a result.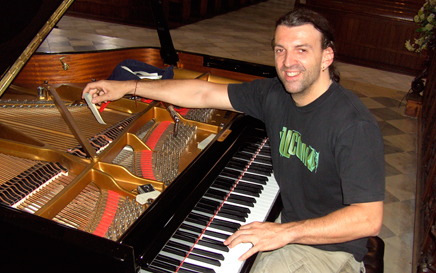 Imanol Lizaso
He is the director and founder of Concert Pianos, graduated by the "City of London Polythechnic" in 1991, has managed to be one of the most recognized professionals in the music scene.
Thanks to his training and great experience he has been able to develop a business career of recognized prestige as a piano tuner, he treats these instruments with special care, arriving at what we can define as an exclusive service of maximum quality.